India Day 5: Happy Holi!
Day 5 (Happy Holi!)
So my last traumatizing Taj Mahal dead battery experience, at the most crucial moment of filming, forced me to take extra precautions for the trip back. The night before I charged then recharged all batteries, dumped old footage, set a million alarms, and analyzed what I had captured to improve my filming. By the time I ended my compulsory precautions to film the Taj Mahal sunrise (not to mention that I had to meet my group at 5:30 am), the clock read 2 am.
The next day, all of the anticipation and excitement brewing allowed us to meet the group relatively on time. March 8th marks the day of Holi, a countrywide celebration where people run around throwing powdered and liquid colors at each other.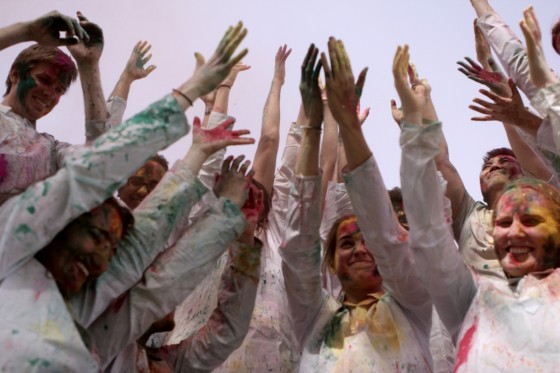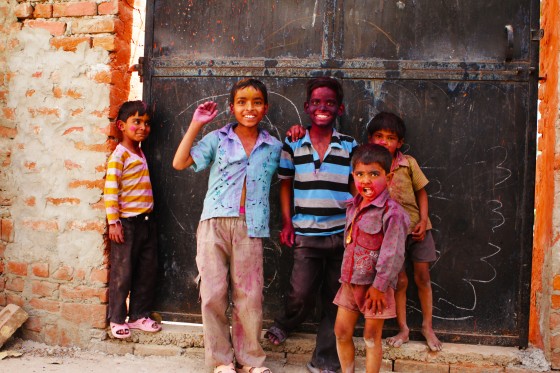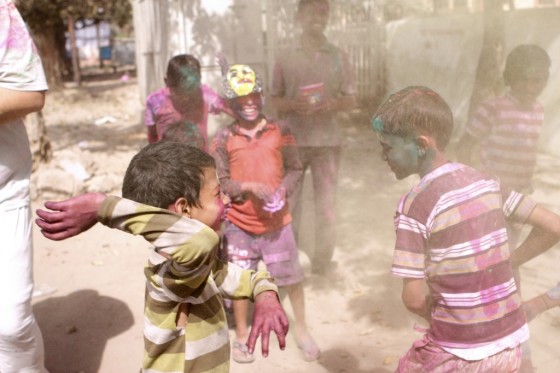 The indescribably beautiful Taj Mahal sunrise awaited us as we waited in line around 6 am. Indescribably beautiful because the sun rose while we patiently stood in line. Talk about misleading marketing. At around 7:30 am we finally made it in to security check where the guard busily cleared out the candy from a tourist's bag. (Fun Fact: Food cannot be brought into the Taj Mahal.) As I passed through without incident (way to be prepared!), I saw a mischievous monkey stealing some confiscated candy from the security count before leaping to a higher part of the building. None of my preparation prepared me for this hilarity because by the time I found to the appropriate lens, the monkey had already vanished.
Mentally if not physically prepared, I attempted some time-lapse shots in addition to taking thousands of photos. For some reason everyone kept staring at me or rather staring at the GoPro attached to my head (as if they've never seen one). Then it was Creative Group Picture Time where we tried to capture several crazy mid-air poses in addition to the obligatory dancing in front of an Indian monument.
After about an hour, we left
to prepare
for Holi…
Tangent #1: The mention of Holi strikes fear in many people.
On our way to McDonald's in an auto Rickshaw to try the legendary Maharaja Mac and the spicy chicken (which Amit claimed was extremely spicy), we were attacked. A balloon full of color detonated on Stephanie's face with Theresa becoming collateral damage (I managed to survive the assault). The other rickshaw met the same fate with Aimy and Neeka becoming casualties of pre-Holi battle.
Tangent #2: Before going to McDonald's, Paul Pine received his Henna sleeve. While we found the situation extremely entertaining, the woman giving him the sleeve did not.
While the other "cowered" in fear of Holi, I could not wait. Images of epic camera shots (sad I know) containing mobs of people covered from head-to-toe with a multitude of colors, filled my dreams. I visualized the famous Tomatilla festival in Spain with colors instead of tomatoes. I even brought a large underwater camera bag to protect the camera from the colors, as well as a GoPro to wear on my head.
Holi, watch out.
Some (Amit and Rohit) suggested taking Holi slowly to help the less excited acclimate the idea of Holi. "Hell no!" The heart of Holi was to be my battleground. Who cares about looking like a multicolored Smurf for a month? The action, the excitement of combat with the locals beckoned. Seriously, the chances that I come back to India for the same holiday do not exist.
Rohit somehow got the group traditional white Indian attire and bags of powdered color. Armed with my colossal camera bag and GoPro, I hit the streets. The moment we exposed ourselves, the locals smiled enthusiastically and proceeded to smear powder all over our faces. The children demonstrated even more excitement by throwing powder directly at our faces and threatening us with their water guns.
The giant underwater camera bag proved too cumbersome; screw it. The ends justified the means. I needed to capture the incredibleness surrounding me.
We started running around like kids as our faces and clothing became saturated with color. Each encounter with the locals slowly removed the hesitations we had harbored until it completely disappeared. From people riding Mopeds to locals on foot, we wished everyone Happy Holi and hugged anyone nearby.
What an incredible bonding experience. Rohit mentioned later that Holi aims to put everyone on an equal level. Everyone is "dirty" and no one cares where you come from. Everyone celebrates life. I thank Holi for helping me feel such a connection with the locals.
After an hour, we returned to the hotel to meet up with Doggett and any stragglers. While waiting, we swapped stories and admired battle scars. Everyone had a blast. No else showed up and we all ventured into the fray for a second time. After a few moments, we found a familiar face, Roy.
Tangent #3: The previous night after dinner, we went shopping at some craft stores located across from our hotel. One of the employees, Roy, helped us make several purchase.
Roy's clothes have seen better days as he was covered in fluorescent pink power. His infectious excitement swam over us and he invited us to his home for a big Holi party. Immediately, Rohit said yes, despite that seemed extremely nervous about our initial Holi encounter. I think Rohit feared that people would not enjoy Holi or feel safe and stressed out. As he saw how much fun everyone had, he opened to being more adventurous.
The next half an hour contains some of my best life experiences. The entire group ventured down into the narrow ally over by the residency areas. Immediately, locals greeted us, and everywhere we went, Roy used water balloon ink to ward off the drunken hands or Holi partiers trying to get to the girls. After turning one corner, we heard loud hip-hop/Punjabi music and saw20-30 half-naked boys, festooned with colors, dancing and moshing with the music. Of course, we joined the throng of awesomeness. Then we walked further seeing women, babies, and animals with colorful faces and Holi powder. Spectacular.
I have never felt so free. Over and over I yelled "Happy Holi" to every living thing. In mid-sentence glob of green colored foam flew in my mouth and the foam stuff actually stains. But I didn't care. Overcome by the craziness, I just wiped my mouth, spit out whatever, and kept yelling and running around.
Unfortunately, our party ended prematurely as we had to leave to clean up and catch our IndieGo plane to our next destination, Ahmedabad. After reluctantly heading back, we did a Holi dance in front of our hotel and entered our rooms completely pumped full of incredible memories.
At 1:00, after thoroughly scrubbing away our Holi battle scars, we headed for the airport. For the most part, no evidence of Holi remained, except for Paul whose neck still showed red. The trip to the airport lasted 3 hours, and, of course, the beauties I saw along the road interrupted my plans to catch up on sleep. Along the highway, small villages, vendors, farmers, various animals, and many more things scampered past. Rohit mentioned how much life lines the side of the Indian Highways. "If something happens while you are traveling, you never have to worry that there won't be someone there to help you." As Doggett suggested, I sat in the very front of the bus to get the best view.
We arrived at the airport early because of the holiday and because our driver hauled ass. Once there, we all (Chris Howey and I especially) breathed a huge sigh of relief when the airline said they would check us in as a group. As a result, the weight of our bags would count toward a total average rather than individually. Chris and I would have paid out the nose if that had not happened. I have no idea what I have bought since arriving, but my bag has since doubled in size and weight. No bueno.
The extra time we had at the airport afforded us the opportunities to eat airport Indian food, catch up on gossip, and chill out. What a colossal difference in comparison to our outrageous morning. As is my custom, I passed out immediately after boarding the plane around 8. Then I passed out after getting off the plane in Ahmedabad and into the new tour bus that took us to the Hotel Marriot. I then proceeded to pass out atop my bed.
Wonderfully, we do not have to be up until 10 am the next day.
Check out the teaser for our upcoming India Bollywood Music Video: