Last day in Los Angeles on Wednesday, and as always, I am sad to leave it. Whenever I come to LA, I get a creativity surge. I do not know whether it is the positive vibe, the "I want to make it big" attitude, the weather, or what, but I always leave LA wanting to do something big, to do more.

The morning consisted of blogging and packing. I had a 3:00 PM train ride to catch, but Vivi and I had the Annenberg Photography Museum Exhibit of Who Shot Rock and Roll still left to see. I have only been to this museum once, during my previous LA trip, but I already love the space. The exhibits are free and the museum brings in some incredible artists. The best part is the documentary portion of the exhibit because one gets to truly understand the biographies and artistic processes of each showcased artist.
Side Note: The artistic process is often times more important to me than the end product.  I love anything that will teach and help me understand what choices the artist made to create his/her final product.
Unfortunately, LA traffic was unkind to us and it took Vivi and I a good 45 minutes to get to the Culver City area, which put us at roughly 1 ish PM. Seriously, it takes 1 hour to get anywhere in LA, even if it is only 3 miles away. I can run faster than that. But, the drive was worth it. It was amazing to hear how most of these photographers started photographing these major rock stars when they were nobody and dirt poor. When these stars blew up, so did their photographers. I hope that will be the case for Moth to Flame's music videos. Bri Bagwell, Patton Sparks, and Drastik… you guys have to blow up! No pressure.
We had to leave in the middle of the documentary to try and make my boarding time. Again, traffic sucked and we arrived at the Union Station at 2:58 PM. Unfortunately, the train leaves on time and in fact even leaves early! I had already missed it by then and had to wait for the 4:15 pm train. No big deal. I wish I had known how easy it was to reschedule a train ticket, or I would have stayed for the entire museum documentary! I spent the next hour watching a very small film crew filming something in the station as well as read internet articles on my smart phone. Have I ever said that I love my smart phone.  I am never bored ever.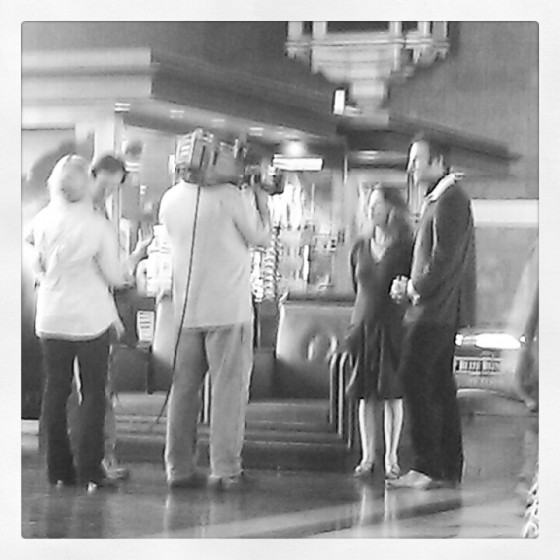 Vivi texted me later that in my absence, the dogs had ate the entire contents of the bathroom waste basket in retaliation for leaving them. Apparently they do this whenever Vivi leaves to travel for work. Disgusting. Someone will be pooping out blue tampon dispensers tomorrow! Is that too much information? Did I tell you these two dogs ate my underwear and plastic mouth guard? No joke. ATE. IT.
The train ride consisted of my nice editing set up. I am getting really efficient at setting up traveling editing stations. The only thing I need to remember to bring is a power strip. I am currently editing a short 30 second promo for Texas Venture Labs, that will be showcased in Time Square on the big Nasdaq tower at the end of July. Though I know what I create will be good, I am definitely terrified. This is a different style of editing I am used to because I have to consider how to best utilize the large space. In addition, much of the tower is covered with tiny windows, which makes editing a bit challenging. I find this to be more of a design challeng rather than an editing challenge.
I fell asleep part of the way and before I knew it, was already in San Diego. I am lucky that my friend, Chris Jackson had arranged everything. I had a hostel to stay at, that was both within walking distance of the train station as well as the convention center. Upon arrival, I checked in with no problems to the USA Hostel, and registered for my Thursday assignment. Apparently, I will be volunteering tomorrow from 1-4 pm. Not sure what I am doing exactly, but I hope I get to meet some cool people. I met Daran Herrman from Coloredlion.com my now co-producer for a lot of music video shoots, in the line of SXSW a year ago. Fancy that!
Around 9 pm, Chris and I stood in line for some movie called DREDD. Chris had already been standing there or 5 hours, I only joined him for the last 30 minutes of the wait. Unfortunately, we did not make it into the theater. The press and VIP line kept shrinking and growing. I have never seen so much press. I bet they were letting people in who blogged. I blog, does that count?
We bought slices of pizza at the Gaslamp pizza joint and walked and ate, looking for cool things to do. We did not find much, but we were not looking hard either. Both of us were tired from our travels and called it an early night.
Tomorrow will be another day, and a crazy one I am sure, judging from the number of people that were roaming around the streets tonight. Good night.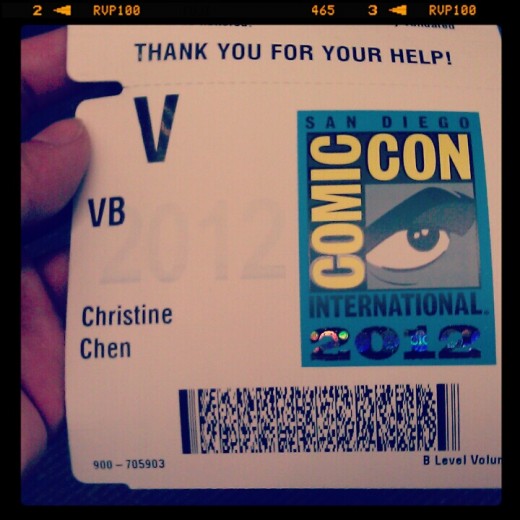 See more photos here:

Related posts: