Vivi and I woke up at a relatively decent hour in the morning, expecting to try and catch the morning light for our graffiti photo shoot. Unfortunately, when Vivi took the dogs out, she came back saying that it was unusually hot outside. To provide a bit of context, in Cali terms, hot means anything greater than mid 70s. In Texas terms, hot means anything above 100. Regardless, my friend Dave wanted to meet up for lunch, so we decided to chill at home and work until then. Vivi made me a wonderful breakfast of cut oats and fruit. Cut oats oatmeal is a new phenomenon that I have recently discovered. Maybe everyone else in the world already knows, but most of the quick cooking oatmeal that we eat is "rolled," aka flattened out. I did not know this. Either way, cut oats tastes MUCH better, less mushier. Vivi puts milk, brown sugar, and fruit in the oatmeal. Delish.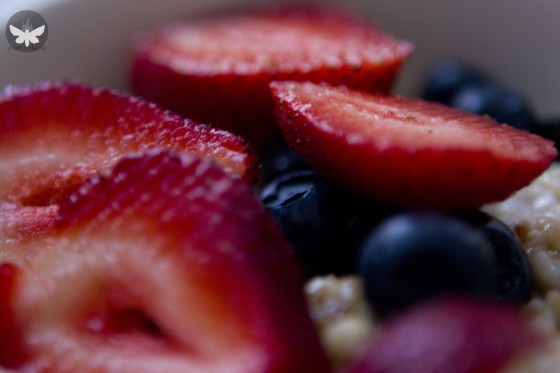 As I worked, the dogs kept running to my chair, jumping up and down begging to be pet so I went over to the futon and decided to give them my full attention after my preliminary bulk of work had been completed. Vivi thought the moment looked so sweet that she started our photography session earlier.  The dogs were also super chilled out so I decided to take some photos too because after some petting they were more or less half asleep and still. Too many photos later, I headed off to Manhattan Beach.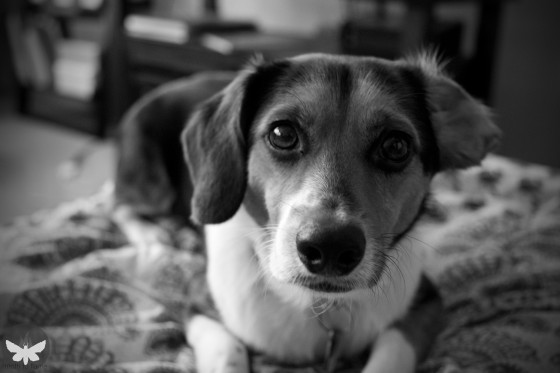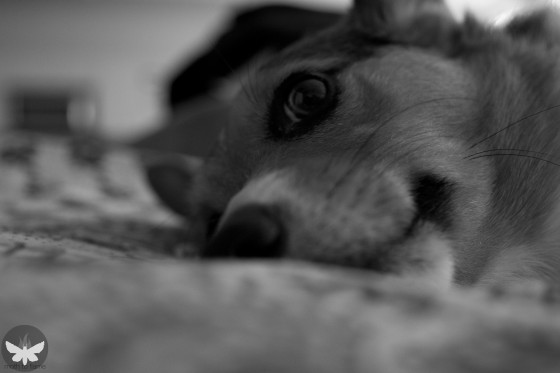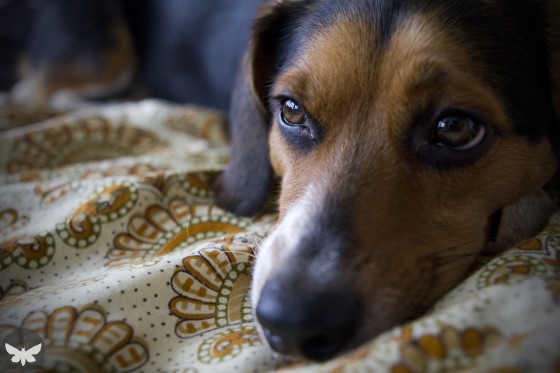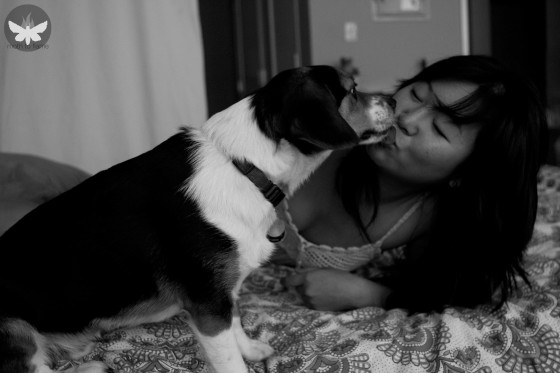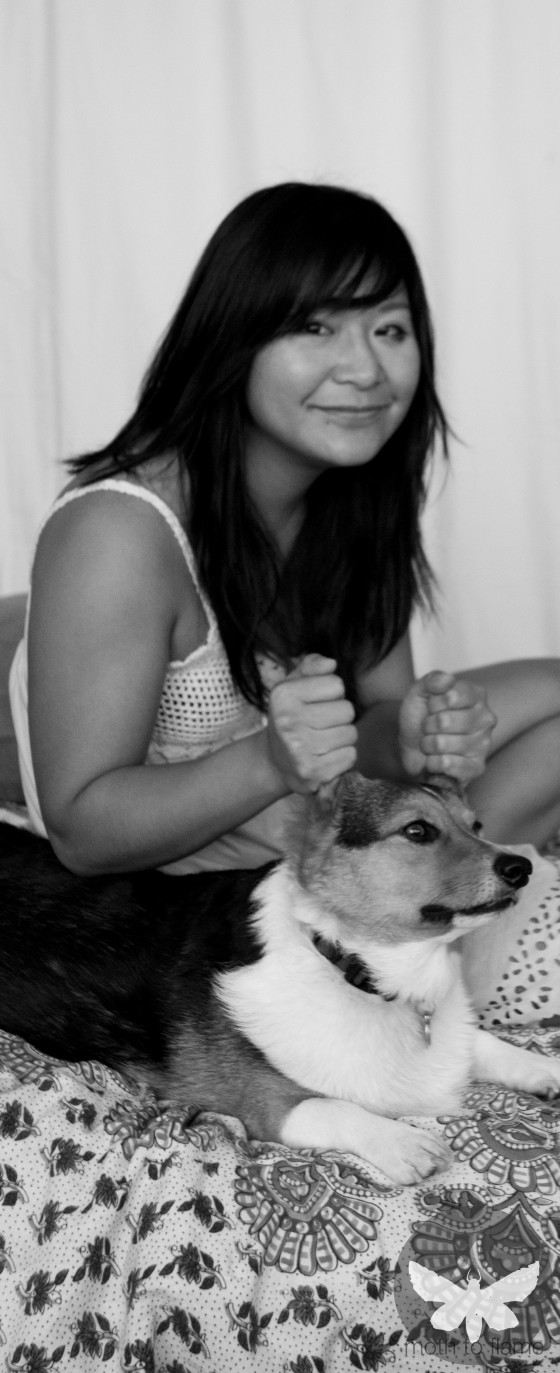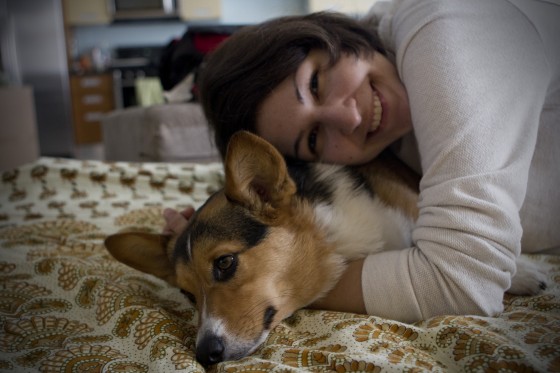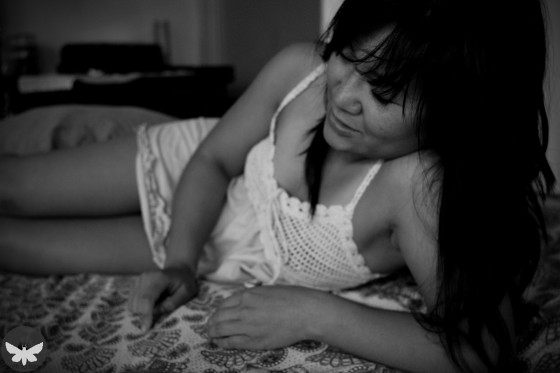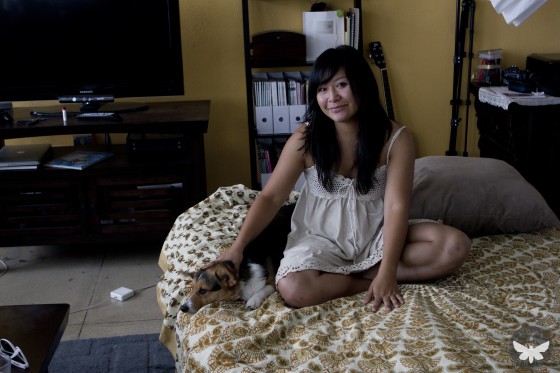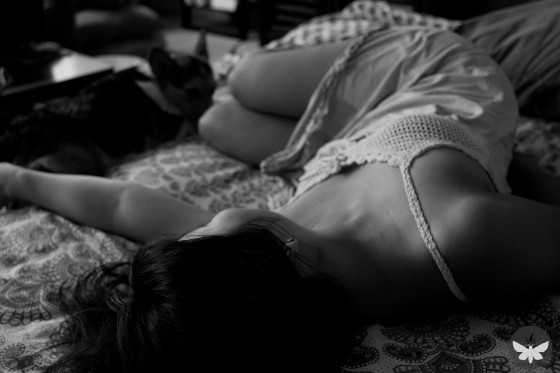 In between all of the photo fun, Nic and I decided we were not angry at each other anymore, thank god, and he invited me to hang out at Manhattan Beach before I left (Wednesday)).  Since Dave is also in the area, I was going to kill two birds with one stone. By the time I got through horrible LA traffic, however, it was already almost 3 pm when I arrived at the beach. I definitely felt anxious because Nic had said he had a meeting at 3:30 pm and would be leaving the beach promptly. I did not see Dave at all at Sharkeez, the restaurant we were supposed to meet at, so I went in search of Nic. The beach was packed! Do people in LA not work or is it just consistently filled with tourists?
I wondered to myself how the hell I would be able to find Nic amongst the crowd. Luckily, this was the same place Nic had taken me to surf earlier, so I walked, slowly scanning the crowd towards what I thought was the last location Nic and I had went. In the distance I saw a tall, burly, blonde man. My eyes are not the best, but I spotted Nic's trademark leg tattoo from a distance. Victory! Of course, I caught him just as he was cleaning up to leave. We walked and talked for a bit and I decided to tag a long and crash his next business meeting.
The business meeting was with Nic's friend Duke. What a dashing, nice, guy. He was very cool and told me I could crash his meetings any time and offered to send me a short script he had written. I stayed for a couple of minutes before driving back to Vivi's place. We still had to do our graffiti photo shoot and I did not want to miss out on "Magic Hour," the time when the sun is just about to set and the light is almost magical.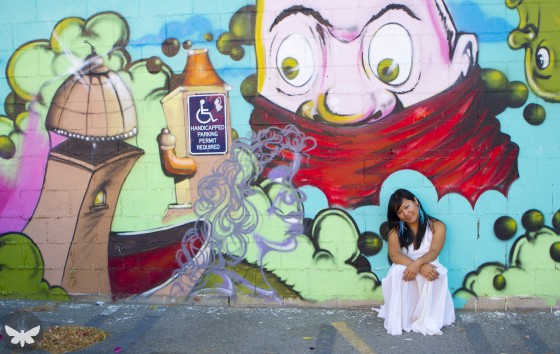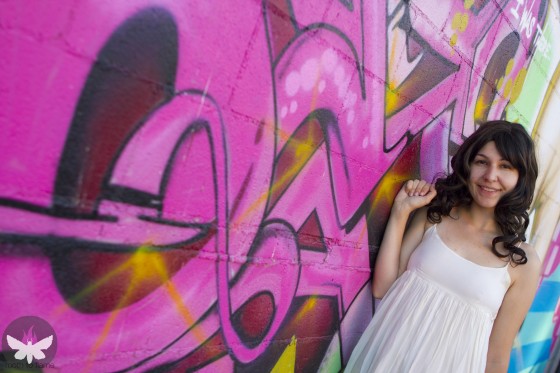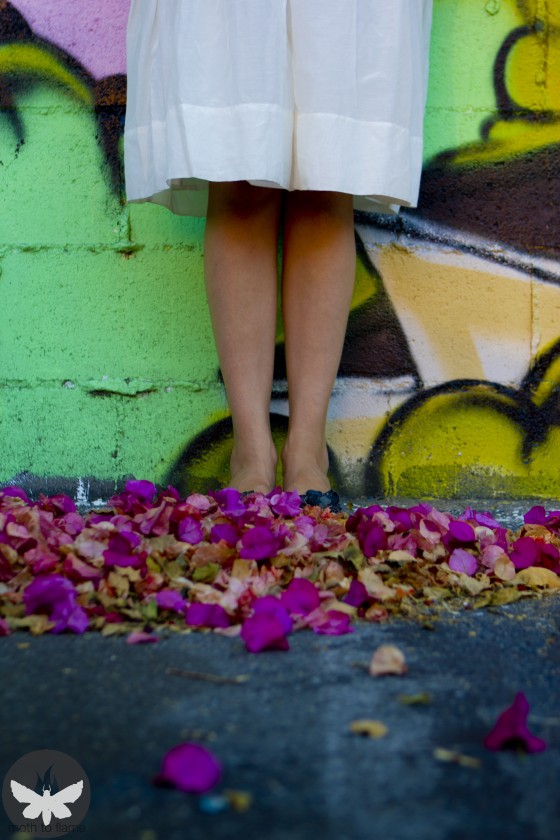 I arrived back just in time. In the time I was gone, Vivi had already completed 80% of a totebag she had been sewing. Go Vivi! We dressed up in our white vintage dresses, brought our trusty camera equipment, her with a Nikon D7000, and me with my Canon T2i and bag of lenses, and headed off of the Art District.
I Love. This. Area. The buildings are all warehouses filled with various businesses, mainly restaurants, but many of these buildings are covered with street art. One of my favorite types of art is street art. I find public displays of creativity, utterly inspiring and fascinating.Vivi and I were in search of a particular cross street, Garey and 3rd, for a particular stretch of tagged walls, but were unsuccessful. But, we had plenty of material to work with. The contrast of our white dresses with the brilliant colors of the walls made for fantastic pictures.  Of course, we had several homeless people and annoying boys bother us in the process, but for the most part, Vivi and I were lost in our own little world.
Note: I discovered a little trick for saving blurry photos. Make them look vintage by adding some grain and adjusting the color levels. The blurry mixed with the grain takes away from the blurry and looks awesome!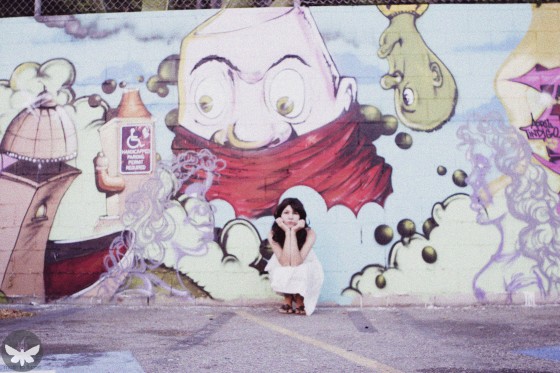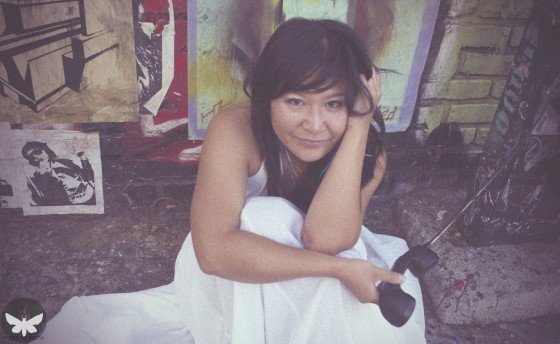 The biggest thing I have taken from this trip is the importance of taking the time to notice and observe one's surroundings. As we walked slowly in the art district, I took note of all the art I saw. All the graffiti on the dumpsters, on the sidewalk, even the ugly parts of the street covered with trash, old gum, and paint, can be beautiful through a camera.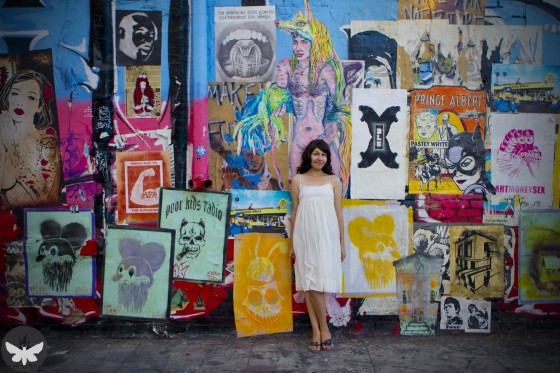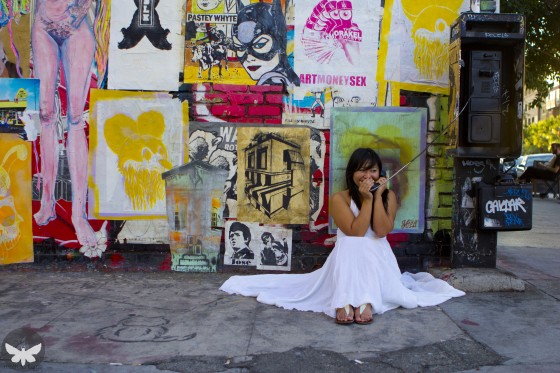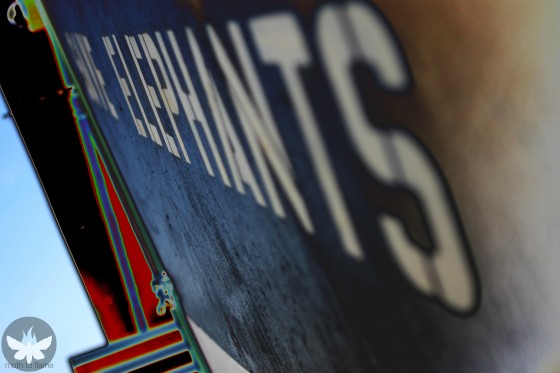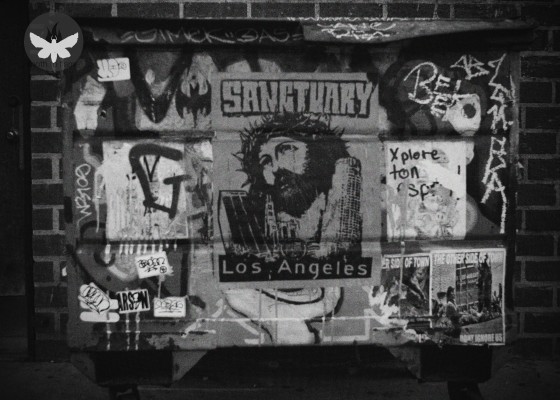 We were lucky to pass one particular wall where the artist was still putting finishing touches to his creation. I wish I remembered the artist's name and had gotten his card. We talked with him for a good 10 minutes about his work. I watched in fascination at the detail he took with each deliberate line he made on the wall. I think many people think about street art as people with cans of paint just spraying random obscene words and squiggles on the wall. They do not normally picture an artist with tape, painstakingly spraying straight, detailed designs. That wall must have taken him forever.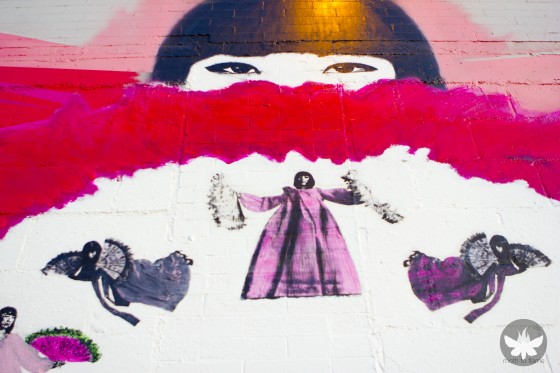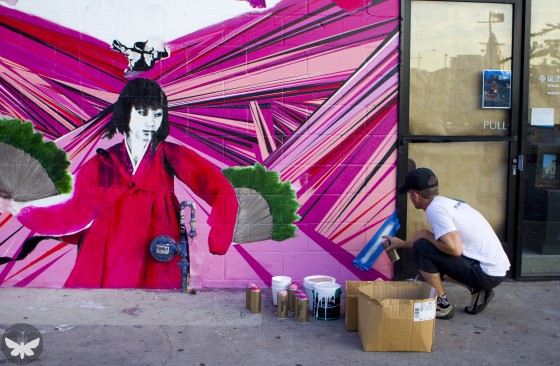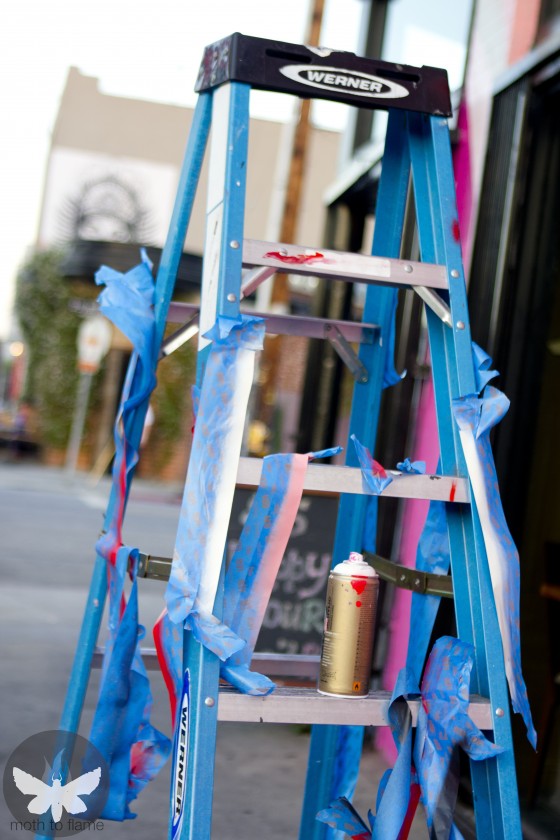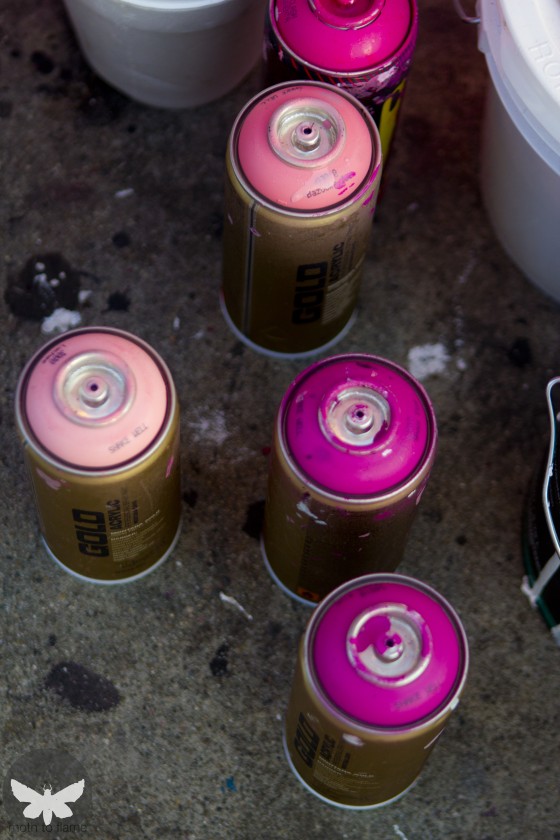 We must have taken over three hundred pictures, before we decided to get some Boba tea in Little Tokyo at this place called Ozera. If anyone ever wants to get Boba, go to this place. If you have your tea in the café, it comes in a giant German beer glass. I ordered a green tea float. First time I've had ice cream combined with tea, a lovely combination, I must say. Vivi and I sat and talked about future plans, Moth to Flame, photography, relationships, and more. I am going to miss this girl so much when I leave for San Diego.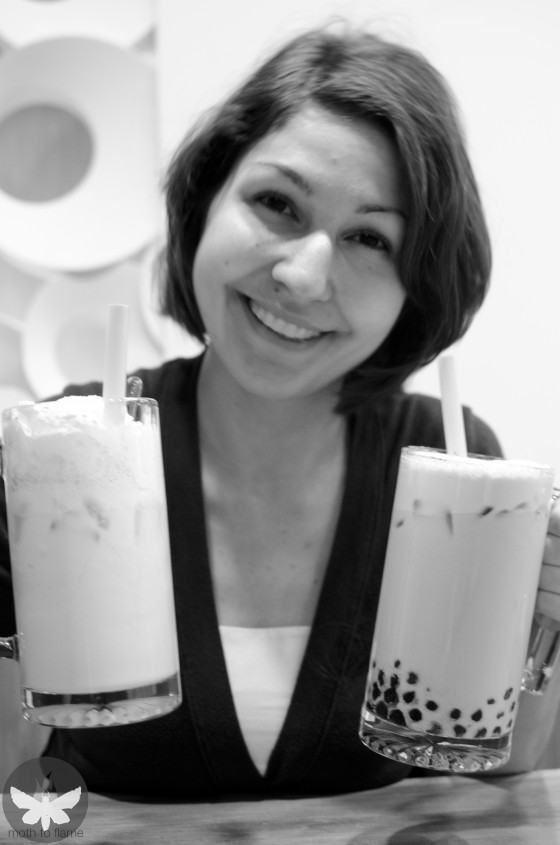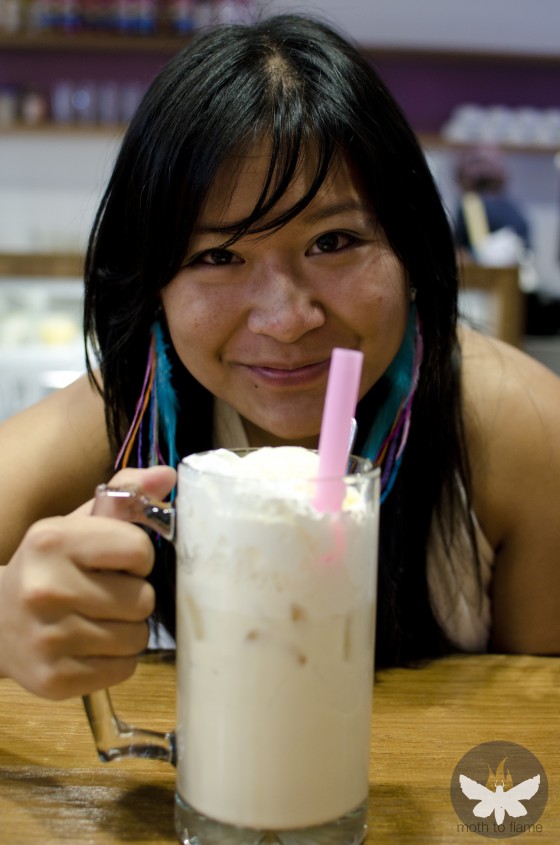 When we got back home, Vivi and I spent the remainder of the night looking through and editing the photos we took that day. Here are the results of our creative expedition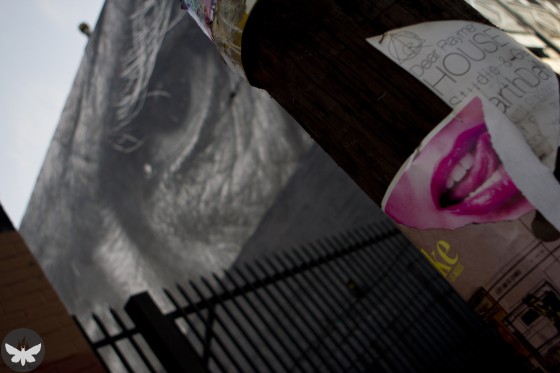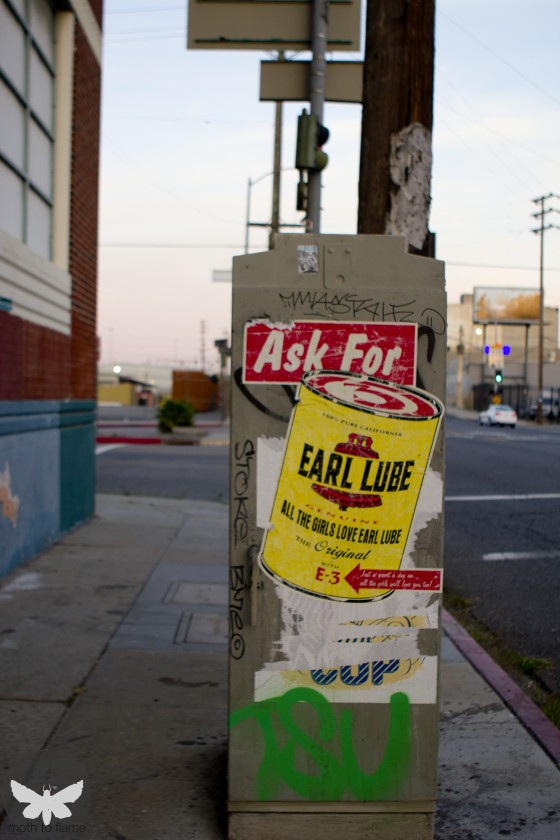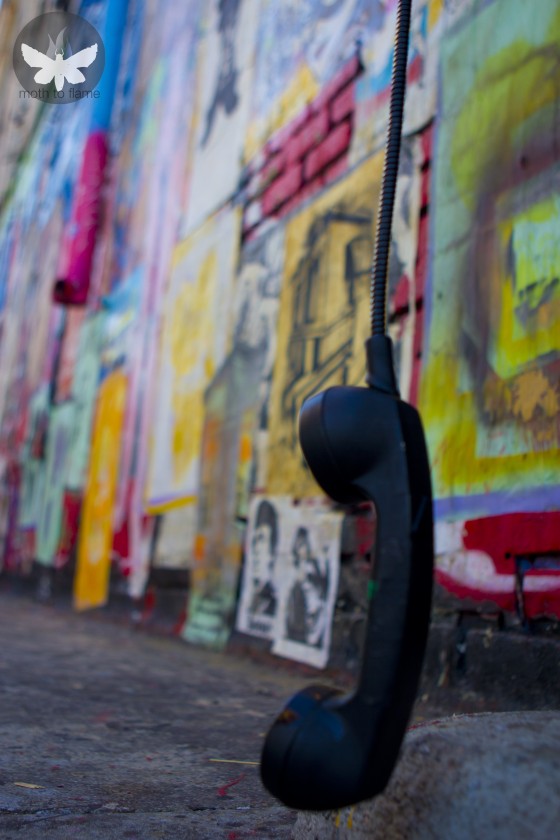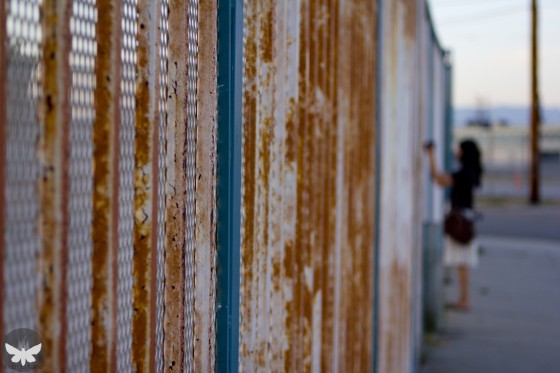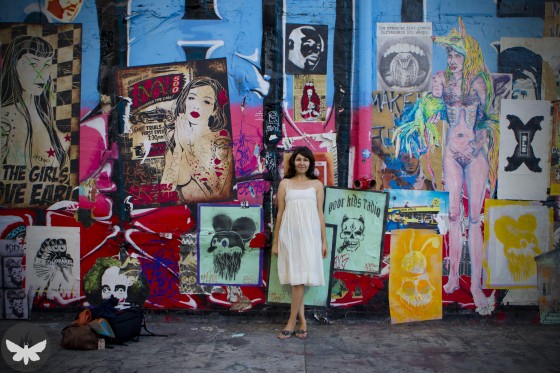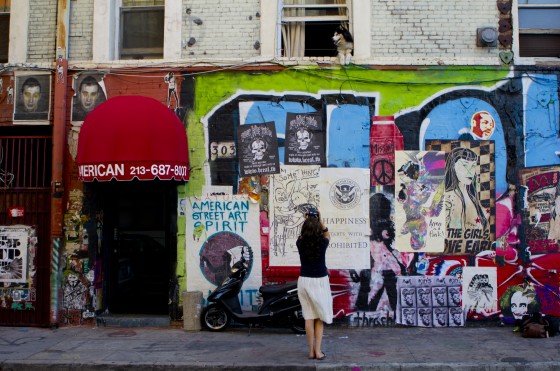 Tomorrow, I shall leave on a train to San Diego for Comic-Con. Though I am terribly sad to leave my friends in LA, I have heard all sorts of things about Comic-Con and cannot wait to see what kind of shenanigans I will get myself into.
See more photos here:

Related posts: