Day 2 (Business by day, terrified by night)
Nothing quite describes the horribleness associated with an 8 am wakeup call when your body has not yet adjusted to a new time zone. (I know how I keep going on about passing out all the time, but it doesn't seem to help.) Exquisite breakfast, however, makes all the difference, and I proceeded to casually stroll down in my travel attire to the eating area. Slightly behind schedule I might add, but who cares when delectable food abounds.
Apparently my classmates, dressed in business casual, had all prepared to visit the two Indian companies that we had scheduled to meet that day. So my dreams of enjoying a beautiful breakfast evaporated as I quickly shoved awesome food in my mouth.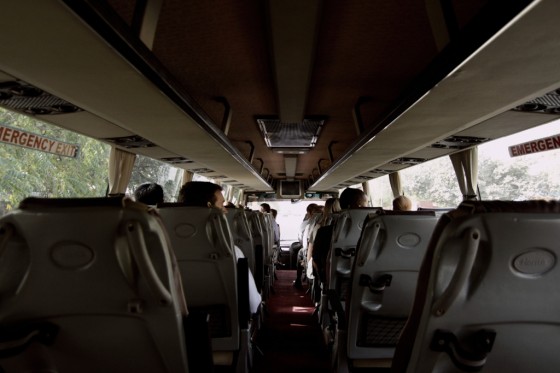 Our "Tourist" bus's first stop: the Power Trading Company (PTC). Unfortunately, even though energy has its importance, it bores me senseless. I spent most of the time framing shots and capturing our company visit on camera.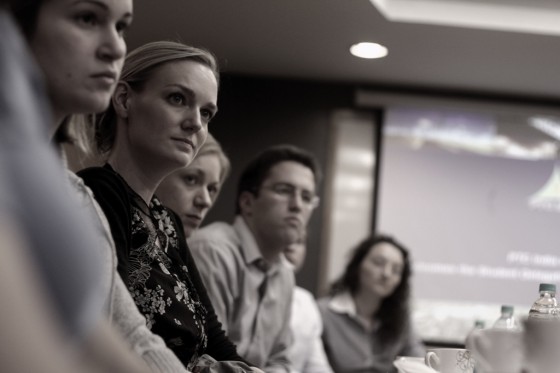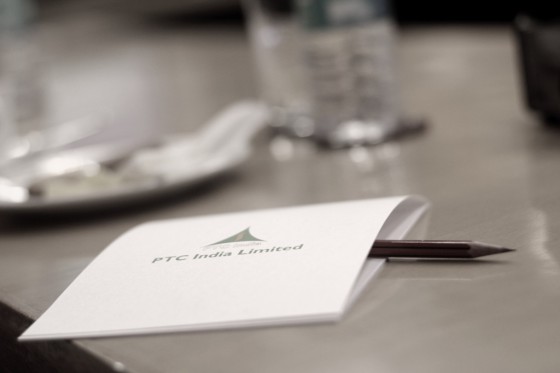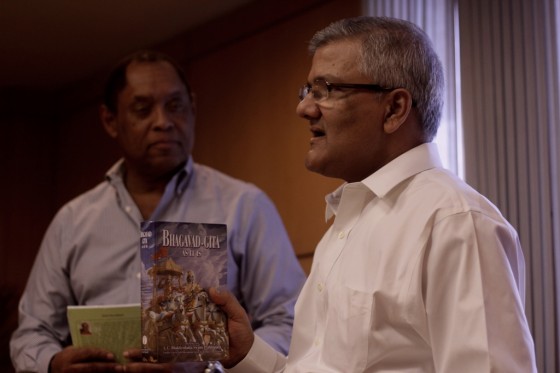 Not all was lost, though, as I convinced the entire group to perform an Indian dance move in front the company (and every subsequent company/landmark we visited). My professor "volunteered" to lead the first dance in front of PTC with my friends quickly joining.
Epic.
Next up: IndieGo, India's most profitable airline. This company reminds me of Southwest Airlines because they focus on domestic flights and keeping costs and prices super low to compete with competitors. The CEO, for the most part, gave a really inspiring talk which only added to the positive vibe I felt from the company. Their branding image had modern, chic qualities especially when compared to other Indian brands. The one thing I did not see eye-to-eye with the CEO was his approach to marketing. He mentioned how he did not believe in the power of marketing, and as such, his company spent very little on it. I would have loved to had the opportunity pick his brain about why he felt that way, but we did not have the time. My team (Caroline, Sang, Neeka, and Paul) and I had to rush to Dr. Shroff's Charity Eye Hospital to meet our client.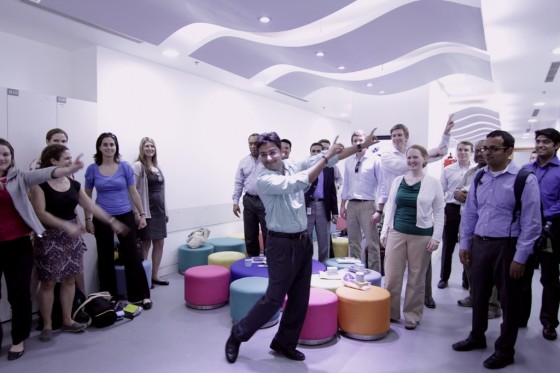 Final stop: The Charity Eye Hospital. The hospital helps provide eye care, surgery, and other vital procedures to Indian patients. After discussing and learning more about the non-profit organization, the team came to the consensus that helping to develop a volunteer program which would bring in skilled and non-skilled volunteers to the organization would have huge benefits.
Team goals:
– Understand the needs and wants of the target audience
– Discover the components of an ideal volunteering program
– Develop the positioning of the volunteering program
– Determine the communication of the volunteering program
– Establish effective website marketing for the volunteering program
I feel that the team can help out this amazing organization. At least I hope we can.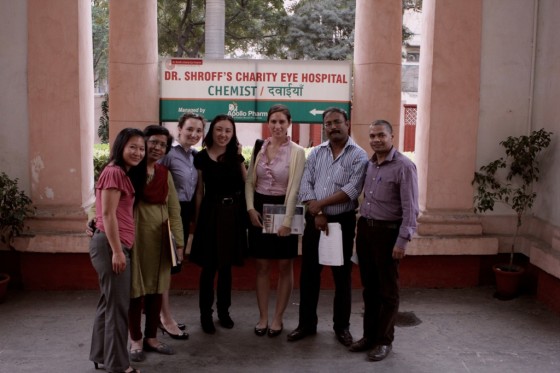 Back at the hotel, we enjoyed a nice meal at an upscale Indian restaurant that served dishes non-family style. I love the bonding experience that comes with eating family style as well as the wonderful varieties of food I get to enjoy; so we at family style anyway.
Due to the awesomeness of family style dinner, our visit to Old Delhi began around 10 pm. Not the smartest of ideas. The adventure starts when we entered the jam-packed subway car filled to the brim with ONLY male passengers. The second I boarded, a pack of men immediately engulfed me despite the obvious spaces elsewhere in the subway car. We tried to stagger the girls so that two or three girls would have the protection of one male team member, but the crowd felt it necessary to press themselves tightly against us. Even in this excruciatingly uncomfortable situation, I could not help but find it slightly humorous.
The conditions in Old Delhi were beyond crazy. For the most part, darkness engulfed everything except the few lights from the about-to-close shops. Men decorated the streets, and with nothing better to do, they decided to shamelessly stare at our little foreign group. Their leery eyes followed our every move. Stray dogs ran up and down the streets covered in the homeless and the poor, and the odors from pollution, unwashed bodies, and trash clung to the excrement scented air. A few people stopped to try to start up a friendly conversation, but many of the other just silently stalked our group like a pack of hungry wolves stalks a deer. Hearing about the extreme economic disparity in India did not prepare me for seeing it firsthand.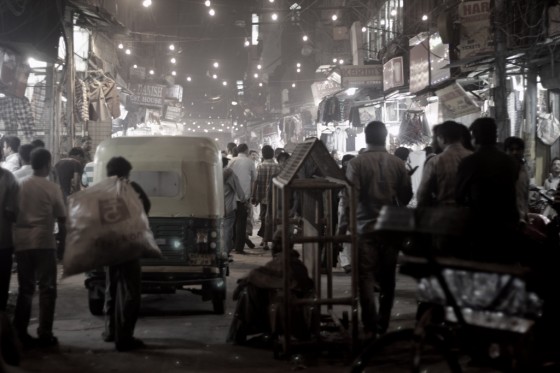 (The picture above is from the short-lived safe portion of the Old Delhi excursion.)
Sweating bullets, Rohit, our fear less leader, looked on the verge of a heart attack. He had the very serious responsibility of protecting the entire group in this frightening situation. A man sitting in front of a mosque kindly told him that we should leave as we had attracted a considerable of unwanted attention. Rohit never walked so fast. "WALK FASTER! You guys have to walk faster" he told us, as we rushed out of Old Delhi. Happily, we all made it back safe. Our fearless leader Rohit gets a big round of a applause and also our strong, responsible male team members.
At the hotel, I immediately called Nic and told him everything. Then, as per my custom, I passed out.
Related posts: